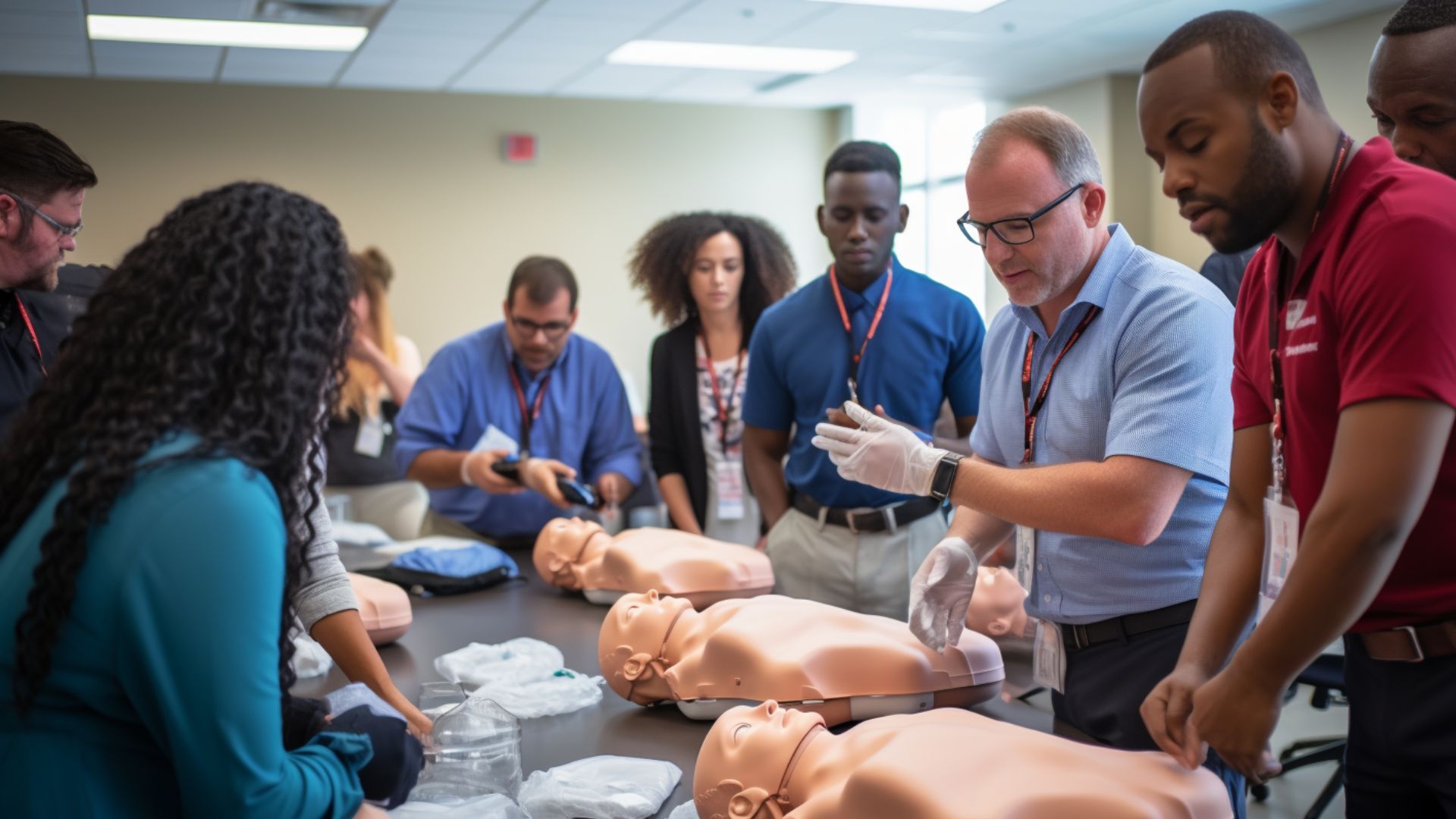 The Occupational Safety and Health Administration (OSHA) reports that approximately 10,000 cardiac arrests occur in the workplace each year in the US. At the same time, a very small percentage of the Jacksonville, FL, workforce knows how to perform CPR or has CPR certification.
While some professionals and employers require CPR and First Aid training, no law requires all businesses to provide CPR training for their employees. However, following the OSHA recommendations, every workplace should have at least one employee who is CPR certified.
Studies show that performing CPR immediately after a person suffers from cardiac arrest can increase the survival rate two to three times in out-of-hospital settings.
In other words, knowing how to perform this life-saving skill will not only increase survival rates but will also make the workplace much safer. Let's look at all the benefits CPR training can bring to businesses in Jacksonville.
Benefits of CPR Training for Businesses in Jacksonville
Based on a survey conducted by the American Heart Association, 65% of employees would have a more positive attitude toward their employer if they were offered CPR training. At the same time, one-third of safety managers claim that CPR training has saved lives.
To urge employers to take action, here are the main benefits of implementing CPR training for businesses and creating safer workplaces in Jacksonville, FL.
CPR Training Saves Lives
Cardiac arrest occurs when circulation stops flowing through the heart. A person who goes into cardiac arrest won't have a pulse and will not breathe. When cardiac arrest occurs, if CPR is not started within two minutes, there is a high chance of irreversible brain damage. This means that the sooner CPR is performed, the greater the chances of survival and recovery.
CPR Training Reduces the Number of Workplace Accidents
As per the US Bureau of Labor Statistics, the number of fatal work-related injuries in 2021 in all industries amounted to 5,190. Implementing CPR training in workplaces will reduce this number significantly.
CPR courses teach employees how to recognize early signs of cardiac arrest and how it can affect the body in the long term. They'll also learn how to act in cases of emergency, which will make them safety-conscious. Besides creating safer workplaces in Jacksonville, CPR training can also help organizations attract new workers, which will boost the overall productivity of their company.
CPR Training Improves the Employee's Sense of Worth
Workplaces that implement CPR training or have CPR certified staff show that their workers' well-being is their main priority. This will also make the workers feel more appreciated. A survey showed that 54% of workers quit because they don't feel valued by their organizations, while 52% leave their jobs because they think managers don't value them enough.
By introducing CPR training, employers will enable their workers to learn a life-saving technique they can apply in all spheres of life, not just at the workplace.
Careers That Require CPR Training
Many jobs in Jacksonville require some form of CPR certification. For example, in the health sector, medical professionals whose work includes intubation and administering intravenous drugs must also complete ACLS training in addition to BLS training.
However, most jobs will only require basic CPR/AED. Other careers that require CPR and First Aid training are:
Emergency responders: Paramedics, firefighters, and police officers must complete the BLS (Basic Life Support) course, which includes learning how to perform CPR on adults, children, and infants and how to use an AED on both adults and children.
Construction workers: Since working on a construction site is a risky job that can lead to severe injuries, having a CPR Level A certificate is one of the job requirements.
Child care providers: Nannies and babysitters must obtain a CPR Level B certificate, which is created for children and infants. In these classes, they'll learn how to perform CPR and how to use an AED on children.
Flight attendants: Flight attendants must hold a certificate in CPR and the use of AEDs. The training instructors must be BLS certified, and the certificate must be renewed every 2 years.
Electricians: Since they work in risky environments, electricians must obtain CPR, First Aid, and AED certifications.
Corrections officers: Prison guards must have Basic First Aid training and a CPR certificate.
Teachers and school personnel: Although in Florida CPR training is not mandatory for teachers, because each school district imposes its own requirements when hiring, most schools in Jacksonville will require a basic CPR, AED, and First Aid certification.
OSHA Recommendations Regarding CPR Training
All employers who want to implement first-aid and CPR training for businesses must use the OSHA guidelines, which include the following:
When planning a first aid program, employers should calculate how long it will take EMS to arrive at the location, both during the day and during the night.
Employers should recognize and assess which locations are potentially dangerous for workers.
Employers should have sufficient quantities of first aid supplies, such as bandages and AEDs.
Employers should hire people who have received first-aid training appropriate for the specific position.
OSHA recommends having trained first-aid providers in workplaces of all sizes that don't have a hospital nearby.
Employers should explain to workers what they should do if an injury occurs at the workplace.
Employers should conduct regular evaluations of the adequacy of first aid training.
OSHA standards that require CPR training are:
1910.146 Permit-required Confined Spaces
1910.266 Appendix B: Logging Operations – First-Aid and CPR Training
1910.269 Electric Power Generation, Transmission, and Distribution
1910.410 Qualifications of Dive Team
1926.950 Construction Subpart V, Power Transmission and Distribution
At the same time, elements of a first-aid training program should include the following:
Teaching methods – practicing hands-on skills on mannequins.
Preparing to respond to health emergencies – interacting with EMS, maintaining a list of emergency telephone numbers, understanding the Good Samaritan law, etc.
Assessing the scene and the victim – checking how safe the environment is, prioritizing victims who need help the most, performing head-to-toe checks for injuries, etc.
Responding to life-threatening emergencies – performing CPR, rescue breathing, using AEDs, etc.
Responding to non-life-threatening emergencies – learning how to manage wounds, burns, bites, and stings.
Where to Find CPR Courses in Jacksonville, FL
Residents of Jacksonville can attend CPR/AED and First Aid courses provided by reliable training centers.
CPR classes are available in two forms – in-person and blended (classroom + online). All courses are led by certified instructors, and upon completion, participants will receive a CPR certificate that will be valid for 2 years. CPR training is offered for individuals, organizations, and schools.
Some of the workplace safety training courses offered by the American Red Cross include the following:
Public Safety Two-Year Certification Courses – classes include CPR/AED for Professional Rescuers and First Aid/CPR/AED for adults and children.
Healthcare Two-Year Certification Courses – classes incorporate Advanced Life Support (ALS), Basic Life Support (BLS), and Pediatric Advanced Life Support (PALS) training.
Aquatics Two-Year Certification Courses – classes intended for lifeguards that include Basic Water Rescue training (three-year certification).
On the other hand, the American Heart Association's workforce training program includes the following courses:
First Aid CPR AED – classroom and blended classes that include first aid, CPR, and AED training.
Pediatric First Aid CPR AED – classes intended for teachers and childcare workers that teach participants how to perform CPR and how to use an AED on children and infants.
Heartsaver CPR/AED – classes for individuals with no medical training who need a CPR/AED certificate.
First Aid – classes that teach how to handle medical, injury, and environmental emergencies.
Bloodborne Pathogens – classes designed for workers who are often in contact with bloodborne pathogens, like tattoo artists, security guards, and correctional officers.
How to Create Safer Workplaces in Jacksonville?
Implementing CPR training for businesses can be beneficial for both employers and employees. CPR training will reduce the number of workplace accidents as it will help workers understand how to react in cases of emergency and how to recognize early signs of cardiac arrest.
CPR training will also improve the employees' sense of worth since they'll feel safe and appreciated by their managers. This also means that organizations implementing CPR training will have a better reputation, attract new workers, and boost their business.