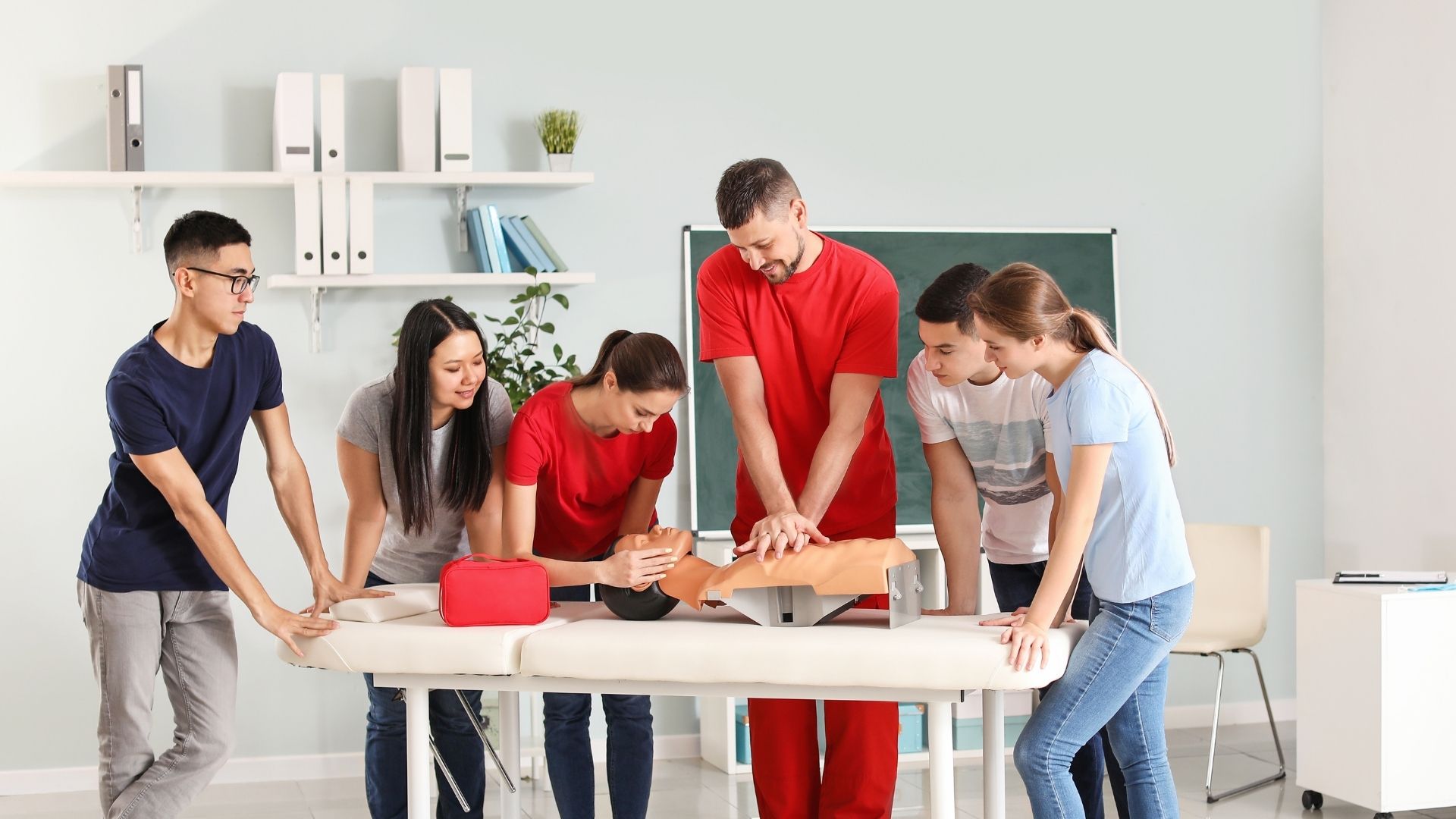 Let's learn how to choose the right CPR certification course. When administered straight away, cardiopulmonary resuscitation, or CPR, can extend one's chances of staying alive.
Based on this American Heart Association research, US bystanders performed CPR in 40.8% of out-of-hospital cardiac arrest cases in 2020. However, when it comes to CPR training rates, it stood at a mere 2.39%.
Since there are many CPR certification courses available, finding the right one might take a lot of work. Therefore, we compiled a short guide on how to choose the right CPR certification course and their availability.
Here's all you need to know.
Factors to Consider When Choosing the Right CPR Course
CPR training is divided into four levels: A, B, C, and BLS. Each level offers different training opportunities, which are designed for both the general public and professional rescuers.
Knowing the difference between the training levels is the first thing you must consider when choosing the right certification course.
Below are the primary distinctions between the levels:
CPR Level A
CPR Level A provides basic training in cardiopulmonary resuscitation. It's suitable for first responders and people who need to meet the health and safety conditions at their workplace.
CPR Level A involves procedures associated with circulatory emergencies and choking, in addition to learning how to use an AED (Automated External Defibrillator).
For example, if you take the CPR Level A course, you will learn how to:
Ensure correct ventilation for people who are unable to breathe
Stimulate blood circulation
Review methods for medical emergencies in adults
Remove obstructions from airways.
The above mentioned points cover the most necessary steps to take when administering CPR as a bystander or in the workplace.
CPR Level B
CPR Level B is limited to individuals who want to learn how to perform CPR on infants and children. This level is recommended for babysitters and nannies. It also includes training on using an AED on children.
Know that CPR Level A and Level B are not interchangeable. There is a distinction between CPR for adults, infants, and children, and each technique differs to accommodate each age demographic. For example, infants and children are more fragile, so you cannot apply the same rate of pressure as you would on an adult.
CPR Level C
CPR Level C course incorporates two techniques: CPR training for adult and child victims and two-person CPR training. This level is recommended for individuals who work in the police and fire stations.
Level C includes Heartsaver First Aid training and Heartsaver CPR AED courses.
CPR Level BLS
CPR Level BLS (or Basic Life Support) is a course created for healthcare professionals. It offers advanced CPR classes, which include Standard First Aid, Basic Life Support (BLS) (this certificate is valid for two years), and Advanced Cardiovascular Life Support (ACLS) courses.
On that note, choose the CPR level that suits your or your employer's needs the most.
How Long Does The Right CPR Certification Course Last?
CPR courses can be 1 to 9 hours long. In other words, the duration will depend on the type and format of the CPR class you take.
For example, AHA's Heartsaver First Aid Online With CPR & AED class usually lasts 2–3 hours. ARC's CPR/AED courses generally take 2 hours to complete.
The online BLS classes on AHA take between 1 and 2 hours, while full BLS Provider courses, which include practice skills and tests, can take up to 4.5 hours.
If you take the Pediatric First Aid CPR AED Course on AHA, you'll be able to finish the online class within 1 to 3 hours and the hands-on skills training within 2 and a half hours. Classroom courses last between 7 and 9 hours.
Where to Find The Right CPR Certification Course
Now that you know how to choose the right CPR certification course level, let's talk about the difference between online and in-person classes and our recommendation for each:
Online CPR Courses
When it comes to finding a legit online certification agency, see if it provides the following:
A credible instructor with CPR certification
Information on the duration of your CPR certificate. Online certificates are generally valid for 2 years.
Online CPR classes are put together by following the guidelines of the AHA (American Heart Association) and the ECC (Emergency Cardiovascular Care).
They are usually divided into different parts. The primary advantage of online courses is that you can take these classes in any order. You can also revisit or complete all the parts at once.
Once you finish the exam, you'll receive a digital certificate in addition to a two-year CPR certification card. Online classes typically take a few hours to complete, making them suitable for people on the go.
Keep in mind that some online courses don't provide practical experiences, such as performing CPR on mannequins. Since CPR is a physical skill that needs to be learned through practical training, opt for online courses that include in-person training with an instructor.
In-Person Courses
On the other hand, the format of in-person classes is more inclusive since it compromises hands-on teaching tactics. For example, the learning style of CPR trainers usually incorporates lectures followed by practical examples, which include performing CPR and AED on special dummies.
That said, in-person courses usually last one whole day, so this option might not be suitable for people with a tight schedule. You can find in-person CPR certification classes by getting in touch with your local hospital or fire department.
While it seems like online courses have an advantage over in-person classes, you should know that not all employees will accept online-only certificates.
In fact, some employees only accept CPR certifications from the American Red Cross and the American Heart Association, and these classes include both online and in-person courses.
The Main Difference Between AHA and ARC CPR Certificate
Both institutions provide online and in-person CPR courses for lay rescuers and professionals, in addition to First Aid and CPR/AED certifications.
The main difference between the AHA and the ARC certification is that the former is more challenging. Namely, you'll need to get a score of 84%+ to pass the BLS exam. In comparison, to pass the ARC exam, your score needs to be 80%+.
Furthermore, the AHA certification is valid for two years, whereas the ARC accreditation can be valid for one or two years, depending on your CPR Level.
Choosing the Right Trainer For The Right CPR Certification Course
Finding the right trainer is as important as choosing the right institution. On that note, you need to make sure you're working with a competent instructor that has a valid CPR certificate.
To find out if your training provider is legit, check their ratings, read online reviews, and see if their working history is in accordance with the latest American Heart Association Guidelines for CPR.
How Much Would The Right CPR Certification Course Cost?
The cost of a CPR course will depend on two factors — the class type and the provider. Therefore, one CPR course can cost as little as $14 and as much as $100.
For example, the CPR Level A course costs between $20 and $55. CPR Level B classes cost between $25 and $40, whereas CPR Level BLS programs will set you back $60 to $80.
Understanding How To Choose The Right CPR Certification Course
How to choose the right CPR certification course? First, you have to pick the training level. If you want to master the basics of adult CPR, opt for Level A. People working with children should choose Level B.
Police officers and firefighters should attend the CPR Level C course, and healthcare professionals should choose CPR Level BLS.
Secondly, you need to choose between online or in-person classes based on your location, work schedule, and convenience. However, keep in mind that most employees accept CPR certifications issued by the AHA and the ARC, which involve a combination of online and in-person classes.And lastly, choose legit training providers with valid CPR certificates who follow AHA's CPR guidelines.